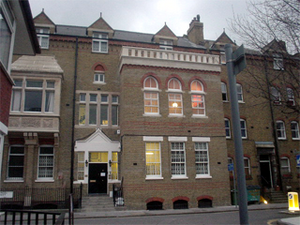 The Electoral Reform Society currently has one office located in London, although it has been suggested that the Society might open an office in Scotland in advance of the 2007 Local Elections.
The address of the office is given below:
Electoral Reform Society,
6 Chancel Street,
London,
SE1 0UU
One of the nearest National Rail stations to the office is London Bridge.

The closest tube station to the office is Southwark. You can get to Southwark from London Bridge on the Jubilee Line.
On leaving Southwark tube station cross the road at the pedestrian crossing and turn left. After about 200 metres, turn right onto Nicholson Street. The Office is the brick building directly ahead of you.
This article is a stub help this Wiki City by expanding this article.